Get Connected With Mladen Tomic
Get Connected with Mladen Tomic es un programa de radio semanal presentado por el Dj y  productor Bosnio Mladen Tomic.
Presenta sus propias mezclas en vivo y en estudio, así como mezclas de artistas invitados de todo el mundo.
Un hipnótico compuesto de techno y tech-house, mejorado aún más por las poderosas líneas de groove y bajo que caracterizan los sets de Mladen Tomic, el DJ y productor bosnio, que se ha ganado los corazones de los clubbers de todo el mundo.
Reconocerá su sonido intransigente y su energía fuerte, que está entretejida en cada uno de los conjuntos.
Las composiciones cuidadosamente seleccionadas.
La producción única.
El fuerte toque personal, ya sea en producción, el mix o el re-mix.
Mladen lanzó música en algunos de los sellos más grandes de la escena Sci + Tec, Tronic, Terminal M, Suara, Form y sus propios Night Light Records.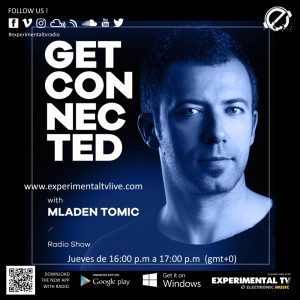 ---
Leer más
---